Dependencies and prerequisites
Android 4.3 (API Level 18) or higher on the handset device
The latest version of Google Play services
An Android Wear device or Wear AVD
With Android Wear 2.0, a watch can communicate with a network directly, without access to an Android or iOS phone.
Separately, the Wearable Data Layer API, which is part of Google Play services, provides an optional communication channel for apps. Although a Wear app can communicate with a phone app using the Wearable Data Layer API, connecting to a network using this API is discouraged.
The Data Layer API consists of a set of data objects that the system can send and synchronize, along with listeners that notify apps of certain events, as follows:
Data Items

Messages

Asset

WearableListenerService (for services)

DataListener (for foreground activities)

Channel
Warning: Because these APIs are designed for communication between handhelds and wearables, these are the only APIs you should use to set up communication between these devices. For instance, don't try to open low-level sockets to create a communication channel.
Android Wear supports multiple wearables connected to a handheld device. For example, when the user saves a note on a handheld, it automatically appears on both of the user's Wear devices. To synchronize data between devices, Google's servers host a cloud node in the network of devices. The system synchronizes data to directly connected devices, the cloud node, and to wearable devices connected to the cloud node via Wi-Fi.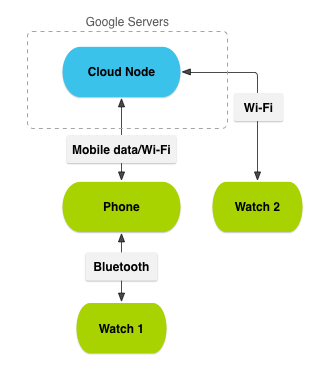 Lessons
This lesson shows you how to acquire a high-bandwidth network. The lesson also provides a starting point for cloud messaging and more.
This lesson shows you how to create a client to access the Data Layer APIs.
Data items are objects that are stored in a replicated data store that is automatically synced from handhelds to wearables.
Assets are binary blobs of data that you typically use to transfer images or media.
Messages are designed for fire-and-forget messages that you can send back and forth between the wearable and handheld.
Be notified of changes and events to the data layer.