Preview how your themed app icons respond to dynamic background wallpaper changes.
Studio Bot is an AI assistant that helps you generate code, fix code, and answer questions about Android app development.
Compose design tools
Create dynamic layouts with Jetpack Compose. Then preview your layouts on any screen size and inspect Compose animations using the built-in inspection tools.
Intelligent code editor
Write better code, work faster, and be more productive with an intelligent code editor that provides code completion for Kotlin, Java, and C/C++ programing languages. Moreover, when editing Jetpack Compose you can see your code changes reflected immediately with Live Edit.
Powered by Gradle, Android Studio's build system lets you to customize your build to generate multiple build variants for different Android devices from a single project. Then analyze the performance of your builds and understand where potential build issues exist in your project with the Build Analyzer.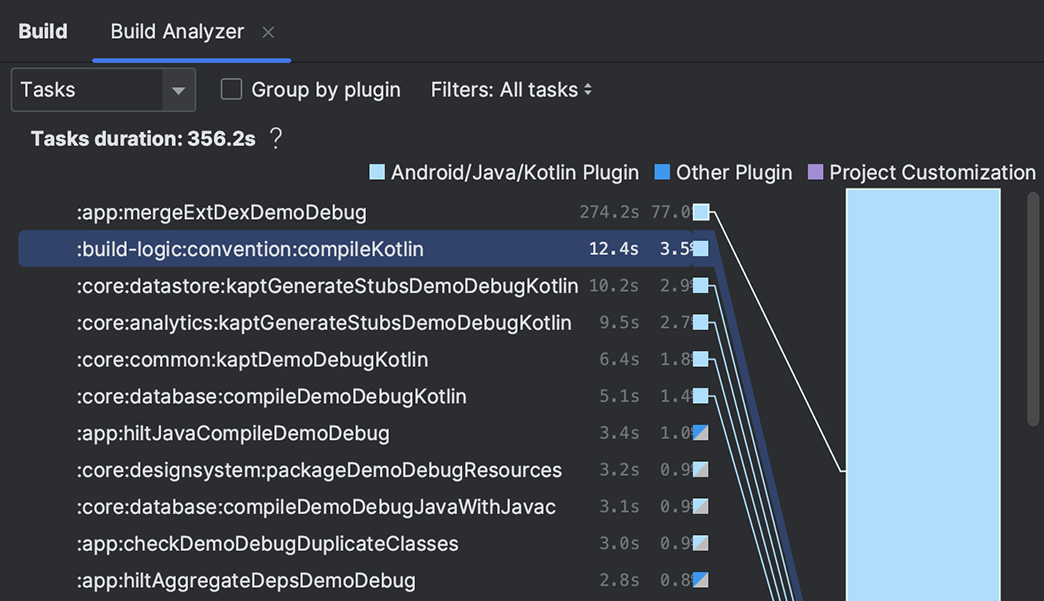 The Android Emulator lets you to test your application on a variety of Android devices. Unlock the full potential of your apps by using responsive layouts that adapt to fit phones, tablets, foldables, Wear OS, TV and ChromeOS devices.
Getting started
Learn how to set up your app development environment, configure Android Studio, and start writing an Android app.
Android Studio can be installed on Microsoft® Windows®, MacOS®, Linux, and ChromeOS. Learn how to install it in a few simple clicks.
Learn how to build a simple Android app in Android Studio by creating a "Hello, World!" project.
Learn to configure Android Studio according to system requirements, create preferred default settings, customize virtual machine options, and more.
Whether you're new to Android app development or just updating your skills, we offer training courses for a variety of levels and topics.
Platform
Android Studio package
Size
SHA-256 checksum
Windows
(64-bit)

Recommended
1.1 GB
0a33a3d65c24df4d637ea929eed4d562743e96852aac55376f43051b1a39804e
Windows
(64-bit)

No .exe installer
1.1 GB
46c5d7ed80c074a831547c2cd3a1b44bce0784b12f59e0c4c2699f8e5c64a1c5
Mac
(64-bit)
1.2 GB
0edcfec3255865bcdd422f84e9be017c21e94ab27b38a3df907da21ad52842a5
Mac
(64-bit, ARM)
1.2 GB
5e86470e6179ebc8b4e9efec0e731a27ec59a2809efd905ff9eac626305a4c7a
Linux
(64-bit)
1.1 GB
977e8a9855414f7d41157f0be0e10fb740c42bd337f763d5d96b3e059780663d
ChromeOS
902.4 MB
7d10c9d0f284590e613513fd11f14a3092ad9f4b9af3641a38df56dcf10614a6
More downloads are available in the download archives. For Android Emulator downloads, see the Emulator download archives.
| Platform | SDK tools package | Size | SHA-256 checksum |
| --- | --- | --- | --- |
| Windows | | 148.8 MB | 9b782a54d246ba5d207110fddd1a35a91087a8aaf4057e9df697b1cbc0ef60fc |
| Mac | | 148.8 MB | 6821609e885d4b68f4066751949a9211f4196ab36df9d63f7a5f9037ca64e2d6 |
| Linux | | 148.8 MB | 8919e8752979db73d8321e9babe2caedcc393750817c1a5f56c128ec442fb540 |
Command-line tools are included in Android Studio. If you do not need Android Studio, you can download the basic Android command-line tools above. You can use the included sdkmanager to download other SDK packages.