Android Emulator 26.2.0 is now available when you enable updates from the Canary Channel.
This version introduces Quick Boot to significantly speed up the emulator start time. This feature is enabled by default for all AVDs. Although the first time you start an AVD it must perform a cold boot (just like powering on a device), all subsequent starts are fast and the system is restored to the state at which you closed the emulator (similar to waking a device).
Quick Boot options
If you want to disable Quick Boot so your AVD always performs a cold boot, proceed as follows:
Open the AVD Manager and click Edit this AVD .
Click Show Advanced Settings and then scroll down to Emulated Performance.
Select Cold boot.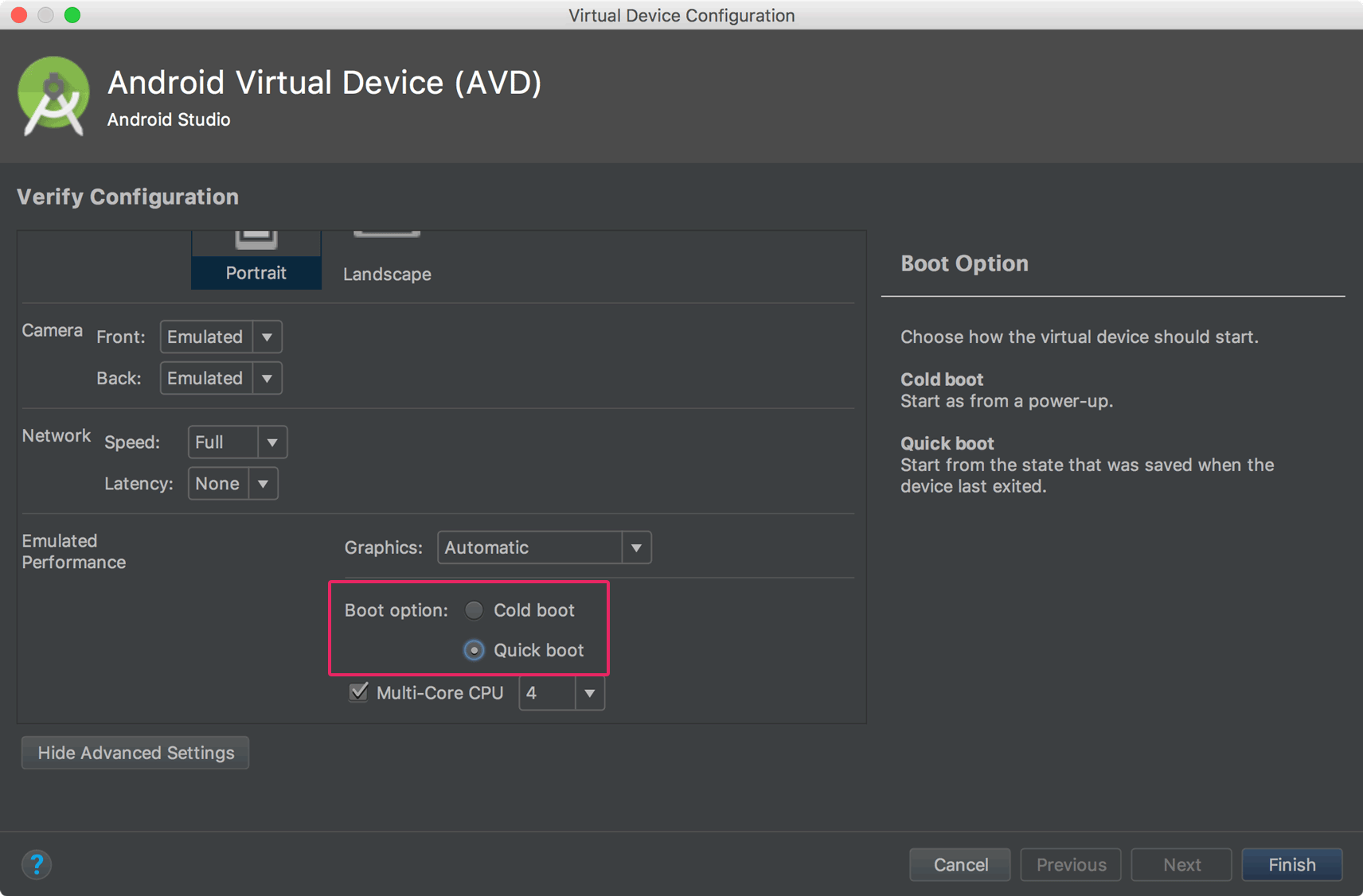 Or, instead of disabling Quick Boot completely, you can cold boot just once by clicking Cold Boot Now from the AVD's drop-down menu in the AVD Manager.

Command line options
Quick Boot can also be controlled from the command line on a per-emulator-launch basis.
-no-snapshot-load: Does a Cold Boot, and saves the emulator state on exit.
-no-snapshot-save: Does a Quick Boot if possible, but skips saving emulator state on exit.
-no-snapshot: Disables the Quick Boot feature (does not load or save state).
Troubleshooting
There are cases when emulator fails to boot from a snapshot and ends up in a broken state. To fix it, select Cold Boot Now from the AVD Manager and send us a bug report so we can investigate.
Known issues
Mac users with earlier versions of HAXM may experience crashes when quick booting. Make sure to use the most recent version of HAXM (6.2.1 or later).
Quick Boot does not work with Android 4.3 (API level 18) or lower.
Quick Boot does not work with ARM system images for Android 8.0 (API level 26).
Quick Boot is not reliable when software rendering is enabled. If it does not work, open the AVD configuration and change Graphics to either Hardware or Automatic.
Any changes to the AVD settings or SDK system image resets the AVD's saved state.
A snapshot file takes 1.5+ GB of additional disk space for the AVD default setting. The "Size on Disk" field in AVD Manager is currently incorrect.
Quick Boot does not work with GLES1 APKs.
You cannot take snapshots during the Android boot animation.