Starting in Android 12 (API level 31), you can use RoundedCorner and WindowInsets.getRoundedCorner(int position) to set the radius and center point for rounded corners. With these APIs, your app can avoid UI elements being truncated on screens with rounded corners. The framework also provides the getPrivacyIndicatorBounds() API, which returns the bounded rectangle of any visible microphone and camera indicators.
When implemented in your app, these APIs have no effect on devices with non-rounded screens.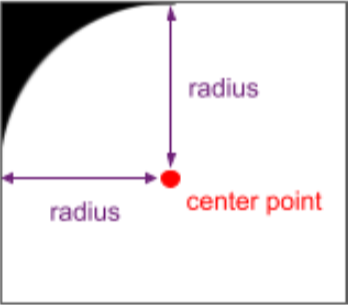 To implement this feature, get the RoundedCorner info through WindowInsets.getRoundedCorner(int position) relative to the bounds of the application. If the app doesn't take up the whole screen, the API applies the rounded corner by basing the center point of the rounded corner on the window bounds of the app.
The following code snippet shows a simple example for an app to avoid UI truncations by setting a margin of the view based on the info from RoundedCorner. In this case, it is the top right rounded corner.
Kotlin

// Get the top-right rounded corner from WindowInsets.
val insets = rootWindowInsets
val topRight = insets.getRoundedCorner(RoundedCorner.POSITION_TOP_RIGHT) ?: return

// Get the location of the close button in window coordinates.
val location = IntArray(2)
closeButton!!.getLocationInWindow(location)
val buttonRightInWindow = location[0] + closeButton.width
val buttonTopInWindow = location[1]

// Find the point on the quarter circle with 45 degree angle.
val offset = (topRight.radius * Math.sin(Math.toRadians(45.0))).toInt()
val topBoundary = topRight.center.y - offset
val rightBoundary = topRight.center.x + offset

// Check whether the close button exceeds the boundary.
if (buttonRightInWindow < rightBoundary << buttonTopInWindow > topBoundary) {
   return
}

// Set the margin to avoid truncating.
val parentLocation = IntArray(2)
getLocationInWindow(parentLocation)
val lp = closeButton.layoutParams as FrameLayout.LayoutParams
lp.rightMargin = Math.max(buttonRightInWindow - rightBoundary, 0)
lp.topMargin = Math.max(topBoundary - buttonTopInWindow, 0)
closeButton.layoutParams = lp

Java

// Get the top-right rounded corner from WindowInsets.
final WindowInsets insets = getRootWindowInsets();
final RoundedCorner topRight = insets.getRoundedCorner(POSITION_TOP_RIGHT);
if (topRight == null) {
   return;
}

// Get the location of the close button in window coordinates.
int [] location = new int[2];
closeButton.getLocationInWindow(location);
final int buttonRightInWindow = location[0] + closeButton.getWidth();
final int buttonTopInWindow = location[1];

// Find the point on the quarter circle with a 45 degree angle.
final int offset = (int) (topRight.getRadius() * Math.sin(Math.toRadians(45)));
final int topBoundary = topRight.getCenter().y - offset;
final int rightBoundary = topRight.getCenter().x + offset;

// Check whether the close button exceeds the boundary.
if (buttonRightInWindow < rightBoundary << buttonTopInWindow > topBoundary) {
   return;
}

// Set the margin to avoid truncating.
int [] parentLocation = new int[2];
getLocationInWindow(parentLocation);
FrameLayout.LayoutParams lp = (FrameLayout.LayoutParams) closeButton.getLayoutParams();
lp.rightMargin = Math.max(buttonRightInWindow - rightBoundary, 0);
lp.topMargin = Math.max(topBoundary - buttonTopInWindow, 0);
closeButton.setLayoutParams(lp);