This page lists the new features introduced in Android Studio preview releases. The preview builds provide early access to the latest features and improvements in Android Studio. You can download these preview versions here. If you encounter any problems using a preview version of Android Studio, please let us know. Your bug reports help to make Android Studio better.
For the latest news on Android Studio preview releases, including a list of notable fixes in each preview release, see the Release Updates in the Android Studio blog.
Current versions of Android Studio
The following table lists the current versions of Android Studio and their respective channels.
| Version | Channel |
| --- | --- |
| Android Studio Dolphin | 2021.3.1 | Stable |
| Android Gradle plugin 7.3.0 | Stable |
| Android Studio Electric Eel | 2022.1.1 | Beta |
| Android Studio Flamingo | 2022.2.1 | Canary |
Compatibility with Android Gradle plugin previews
Each preview version of Android Studio is published alongside a corresponding version of the Android Gradle plugin (AGP). Preview versions of Studio should work with any compatible stable version of AGP. However, if you're using a preview version of AGP, you must use the corresponding preview version of Studio (for example, Android Studio Chipmunk Canary 7 with AGP 7.2.0-alpha07). Attempts to use divergent versions (for example, Android Studio Chipmunk Beta 1 with AGP 7.2.0-alpha07) will cause a Sync failure, which results in a prompt to update to the corresponding version of AGP.
For a detailed log of Android Gradle plugin API deprecations and removals, see the Android Gradle plugin API updates.
Android Studio Electric Eel | 2022.1.1
The following are new features in Android Studio Electric Eel.
Live Edit
In Android Studio Electric Eel, you can use Live Edit to deploy code changes to your composable to an emulator or device in real time. You don't have to wait for builds or deployments to be completed, so you can make faster progress in creating your app.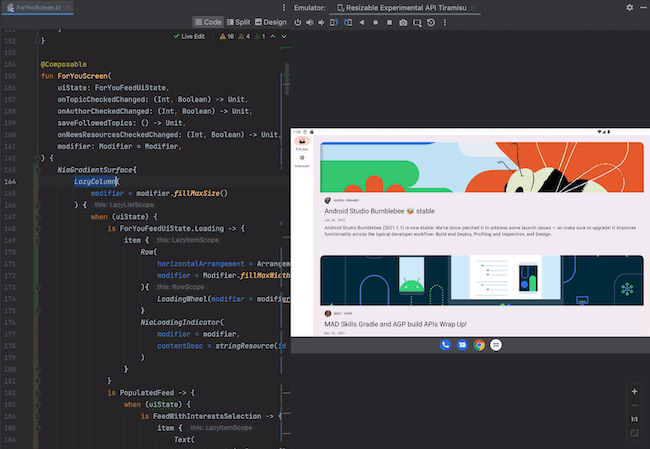 Live Edit is available in the Electric Eel Canary channel as an experimental feature. To turn it on manually, navigate to File > Settings > Editor > Live Edit (Android Studio > Preferences > Editor > Live Edit on a Mac).
Live Edit focuses on UI- and UX-related code changes. Live Edit doesn't currently support changes such as method signature updates, adding new methods, or class hierarchy changes. Live Edit is an experimental feature in active development, so you might experience some unstable behavior. If you find an issue, please let us know so we can work to fix it. You can also see a list of open issues here. For more information, see Live Edit in Android Studio.
SDK insights
View dependency insights from the new Google Play SDK Index, a public portal with information about popular dependencies, or SDKs. If a specific version of a library has been marked as outdated by its author, a corresponding Lint warning appears when viewing that dependency definition. This enables you to discover and update dependency issues during development instead of later when you go to publish your app on the Play Console. You can learn more about this new tool on the Android Developer's Blog post here.
App Quality Insights from Firebase Crashlytics
Starting with Android Studio Electric Eel, you can see and act on app crash data from Firebase Crashlytics directly in the IDE. This integration pulls stack trace data and crash statistics from Crashlytics into the new App Quality Insights tool window in the IDE, so you don't have to jump back and forth between your browser and the IDE. Development teams can benefit from key capabilities including the following:
See lines in your code highlighted when they have related Crashlytics event data.
See the stack trace for top crashes and click on the stack trace to jump to the relevant lines in your code.
See summary statistics about top crash and non-fatal events, for example grouped by device manufacturer and Android version.
Filter events by severity, time, and app version.
Get a browser link that opens the Crashlytics dashboard page with more details about the event.
With the Android Studio and Crashlytics integration, you can write code and address top crash issues all in the same spot. This enriched development experience helps you stay informed about your app's performance and minimize disruptions for your users. If you encounter any issues with this feature, file a bug.
If you're not using Crashlytics yet and would like to learn more about its offerings, see Firebase Crashlytics.
Get started
To see Crashlytics data in Android Studio, you need to set up Firebase and Crashlytics in your app project. Here's how: open the Firebase Assistant in Android Studio by going to Tools > Firebase, click Crashlytics, and then follow the tutorial to add Firebase and Crashlytics to your project. You can read more about the Firebase Assistant workflow in Firebase's getting started guide for Android.
If you've already added Firebase and Crashlytics to your app, sign in to your Developer account in the IDE by clicking on the avatar icon
. After you sign in, click on the App Quality Insights tool window. You should see the Issues, Sample Stack Trace, and Details panels populate with reports from Crashlytics.
Navigate Crashlytics data in Android Studio
The App Quality Insights tool window has rich data that gives you insight into the events your users are encountering, and links to help you quickly navigate to the sources of those events.
If your project includes multiple app modules, make sure the module you want to see event data for is selected from the module dropdown menu.
Use the application ID dropdown menu to select the app ID you want to analyze. For example, while you might work on the debug version of your app in the IDE, you might want to see event data for your production version of your app that your users install.
The Issues panel shows the top events that Crashlytics has data for, and is sorted by your most impactful crashes.

The Sample Stack Trace panel shows details about the latest occurrence of the event you click on in the **Issues** panel. You can see the event's stack trace and click on the stack trace to jump to the relevant lines in your code base.

There is also information about the device type affected, its Android version, and the time the event occurred, as well a link to the event in the Firebase Crashlytics dashboard. The dashboard is useful if you want to dive deeper and inspect additional stack traces, trends, and custom logs.

The Details panel breaks down the crash counts by device type and Android version, so you can determine which user groups are most affected. It also shows which app version(s) experienced the crash and the number of users affected.
Use the severity filters to select or deselect events that are Fatal or Non-Fatal .
Use the time range and app version filters to hone in on certain subsets of events.
In addition to being able to navigate from stack trace to code, you can also jump from code to stack trace: Android Studio now highlights lines of code that are related to crashes so you can easily spot and debug them.
When you hover over a highlighted line of code, a pop-up appears that shows the event involved, its frequency, and the number of devices affected. You can click on Open in App Quality Insights to jump to the event details in the App Quality Insights tool window.
Resizable emulator
You can now test your app on multiple screen sizes and with a single resizable emulator. Testing on a single resizable emulator not only allows you to rapidly test changes across different interfaces, but also promotes a smoother development experience by saving the compute resources and memory that would be required to maintain separate virtual devices.
To use the resizable emulator, you need Android Emulator version 31.1.3 or higher (you can upgrade versions by going to Tools > SDK Manager). To create a resizable Android Virtual Device (AVD), in the Create device flow, select the "Resizable (Experimental)" phone hardware profile, download the Android Tiramisu system image, and follow the prompts to create the AVD.
When you deploy your app to the resizable emulator, you can use the Display Mode dropdown menu in the emulator toolbar to quickly toggle between a set of common device types. The emulator screen will resize so you can easily test your app across a range of screen sizes and densities.
Emulated Bluetooth
You can now discover and connect two phone emulators using virtual Bluetooth. With virtual Bluetooth, you can test that your app can recognize and gain access to the Bluetooth adapter in a scalable way. This feature is available on Android Emulator 31.3.8 and higher with system image T (API 33). We plan to add more support for creating sample virtual peripherals, such as beacons and heart rate monitors, and integration testing for your Bluetooth features in the future.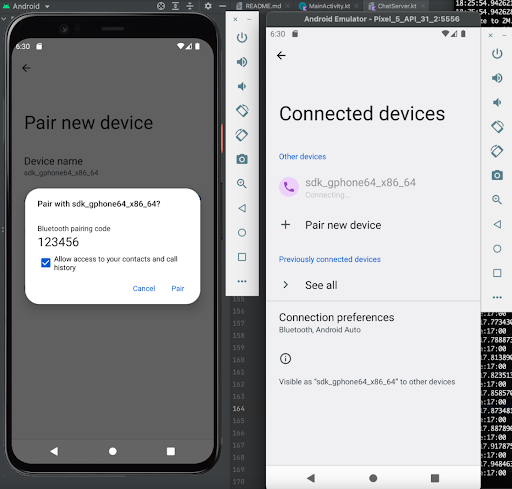 Device Mirroring
You can now mirror your device in the Running Devices window in Android Studio Electric Eel. By streaming your device's display directly to Android Studio, you can execute common actions such rotating the screen, changing the volume, or locking/unlocking the device right from the IDE itself.
Device Mirroring is available in the Electric Eel Canary channel as an experimental feature. To turn it on manually, navigate to File > Settings > Experimental (Android Studio > Preferences > Experimental on a Mac), and check the box next to Device Mirroring.
To get started, ensure you are connected to a device. All devices that you are connected to are mirrored in tabs in the Running Devices window, which you can open by navigating to View > Tool Windows > Running Devices. When you deploy an app or test to a connected device, the Running Devices window appears automatically and shows the mirrored device.
Privacy notice
If device mirroring is enabled, Android Studio automatically starts device mirroring for any connected and paired device. This might result in information disclosure for devices connected with the adb tcpip command because the mirroring information and commands are passed over a non-encrypted channel. In addition, Android Studio uses a non-encrypted channel to communicate with the adb server, so mirroring information can be intercepted by other users on your host machine.
Updates to Logcat
In Android Studio Electric Eel, the new version of Logcat is enabled by default to make it easier to parse, query, and keep track of logs. This represents the most significant update to the tool since its introduction, and we welcome you to provide feedback.
Android Gradle plugin targets JVM 11 bytecode
Starting with Android Gradle plugin 7.4.0-alpha04, AGP ships wth JVM 11 bytecode. This means that if you compile against AGP, or write custom Lint checks, you need to start targeting JVM 11 bytecode. One of the ways to do this is to include the following in your module-level build.gradle file:
sourceCompatibility = "11"
targetCompatibility = "11"

AGP Upgrade Assistant post-upgrade report and rollback functionality
The AGP Upgrade Assistant now includes a post-upgrade report. This report describes the steps that were completed and if the upgrade was successful or unsuccessful. It also includes an action to revert changes that were made by the upgrade assistant, if there are issues building or testing the project after the upgrade.
Project import runs in parallel
Starting with Android Studio Electric Eel Canary 6, the IDE imports projects in parallel when you use Gradle 7.4.2 or higher and Android Gradle plugin 7.2.0 or higher. Specifically, when Android Studio triggers a Gradle sync, the information that describes projects included in your build is created in parallel. This should result in faster sync times, especially for larger projects. Benchmarks show that the time it takes to build Gradle models for a very large project (with 3,500 Gradle subprojects) is reduced by 50%, from 10 to 5 minutes.
Desktop Android Virtual Device now available
You can now test how your app works on desktop devices such as Chromebooks by using a Desktop Android Virtual Device (AVD). Users often interact with apps differently on large screen devices, and the Desktop AVD enables you to see how your app behaves in this environment. Here are some of the unique functionalities you can test:
App resizing: resize your app by dragging the window edges.
Freeform window management: place your app in various places on the desktop screen, and minimize, maximize, and restore the app window.
Notifications: check that the notifications render correctly when pulled up from the system tray on the desktop.
To learn more about Desktop AVDs and how to incorporate them in your testing workflow, see Desktop AVD in Android Studio on the ChromeOS developers blog.
Check download impact using Build Analyzer
Starting with Android Studio Electric Eel Canary 10, Build Analyzer provides a summary of time spent downloading dependencies and a detailed view of downloads per repository. You can use this information to determine whether unexpected dependency downloads are negatively impacting your build performance. This is especially important during incremental builds, which shouldn't consistently download artifacts.
Specifically, you can use this information to identify configuration issues, such as use of dynamic versions of dependencies that cause unexpected downloads. Also, if you see a high number of failed requests for a specific repository, it could indicate that the repository should be removed or moved lower in your repository configuration.
Layout Inspector recomposition rendering highlights
In Android Studio Electric Eel, your recompositions are highlighted to help you determine where in the UI your composables are recomposing. The highlighted portion shows a gradient overlay of the composable in the image section of the Layout Inspector, and gradually disappears so that you can get an idea of where in the UI the composable with the highest recompositions can be found. If one composable is recomposing at a higher rate than another composable, then the first composable receives a stronger gradient overlay color.
Use Compose Preview with different devices
In Android Studio Electric Eel, you can edit the device parameter of the Preview annotation to define configurations for your Composables in different devices.
Autocompletion
When the device parameter has an empty string (@Preview(device = "")), you can invoke autocomplete by pressing Ctrl + Space. You should be able to set the values of each parameter. To switch, press Enter, or cancel with Esc.
Inspection
If you set an invalid value, the declaration is underlined in red and a fix may be available (Alt + Enter (⌥ + ⏎ for macOS) > Replace with …. The Inspection will try to provide a fix that is closest to resembling your input.
Preview Picker
You can use the Preview Picker to edit your configurations. To get started, click the settings icon next to your Preview.
Universal Problems panel
In Android Studio Electric Eel, you can view all the issues for your Design Tools in a shared issue panel. To view the tool window, navigate to View > Tool Windows > Problems.
Visual linting
Starting with Electric Eel Canary 1, Android Studio automatically runs your layout to check for Visual Lint issues across different screen sizes. When you open Layout Validation, you can see all your layouts render in multiple device sizes. If there's an an issue, you can see it in the Problems panel, which is designed to show all issues within design tools, regardless of if your layout is written in Views or Compose.
Compose Preview
Starting with Android Studio Electric Eel Beta 1, you can see immediate updates to your Preview changes as you make them.
Android Studio Flamingo | 2022.2.1
The following are new features in Android Studio Flamingo.
IntelliJ IDEA 2022.2 platform update
Android Studio Flamingo Canary 1 includes the IntelliJ IDEA 2022.2 updates, which improve the IDE experience. For details on the changes, see the IntelliJ IDEA 2022.2 release notes.
Auto-connect to foreground process in Layout Inspector
The Layout Inspector now automatically connects to apps on virtual or physical devices. Specifically, the Layout Inspector automatically connects to debuggable processes running in the foreground of a connected device. If you have feedback on this feature, please file a bug.
Network Inspector traffic interception
Starting with Android Studio Flamingo Canary 1, the Network Inspector shows all traffic data for the full timeline by default. You can select a range within the timeline to see only the traffic in that range.
You can also create and manage rules that help test how your app behaves when encountering different responses such as status codes, and response headers and bodies. The rules determine what responses to intercept and how to modify these responses before they reach the app. You can choose which rule to enable or disable by checking the Active box next to each rule. Rules are automatically saved every time you modify them.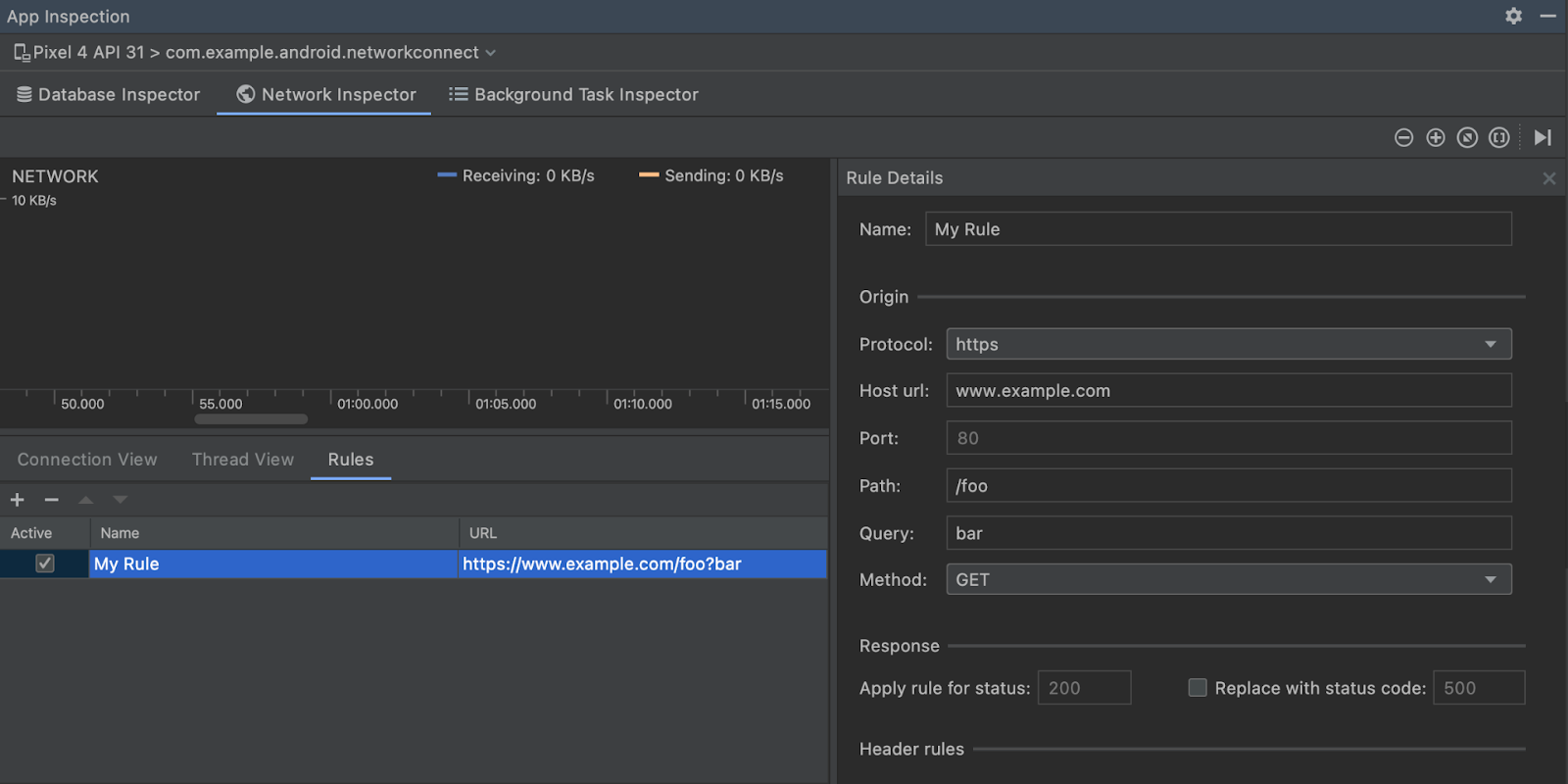 To get started, navigate to the Rules tab in the Network Inspector and click + to create a new rule. In the Rule Details panel, name your new rule and include information about the origin of the response you want to intercept under the Origin subsection. The URL in the Rules table should update based on the changes you made to the origin of the response. All fields in this subsection are optional.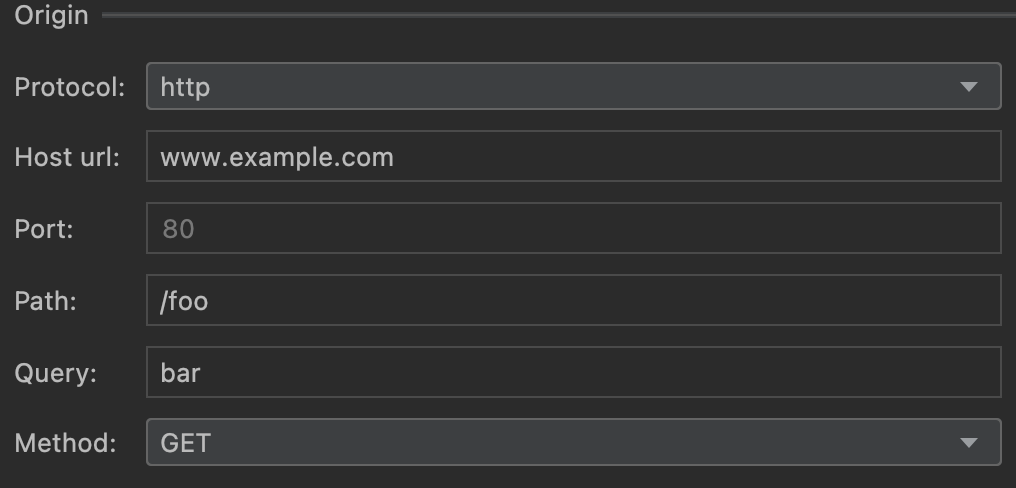 From the Response subsection, you can modify the response before it's sent to your app. For example, you can set the rule to execute on responses with a specific status code as well as modify that status code.

Modify headers
In the Header rules subsection, you can create multiple sub-rules that add or modify headers in a response. When you create multiple header rules, use the up and down arrows

at the top of the Rules table to change the order of the header rules. The order affects the header of the modified response because the header rules are applied in the order that they are listed.
To get started, click + in the Header rules section.
To add a header, enter a name and value for the header in the Add new header section.

To modify a header, navigate to the Edit existing header tab and specify the header name or value that you want to find. Enter a header name or value that you want to replace it with.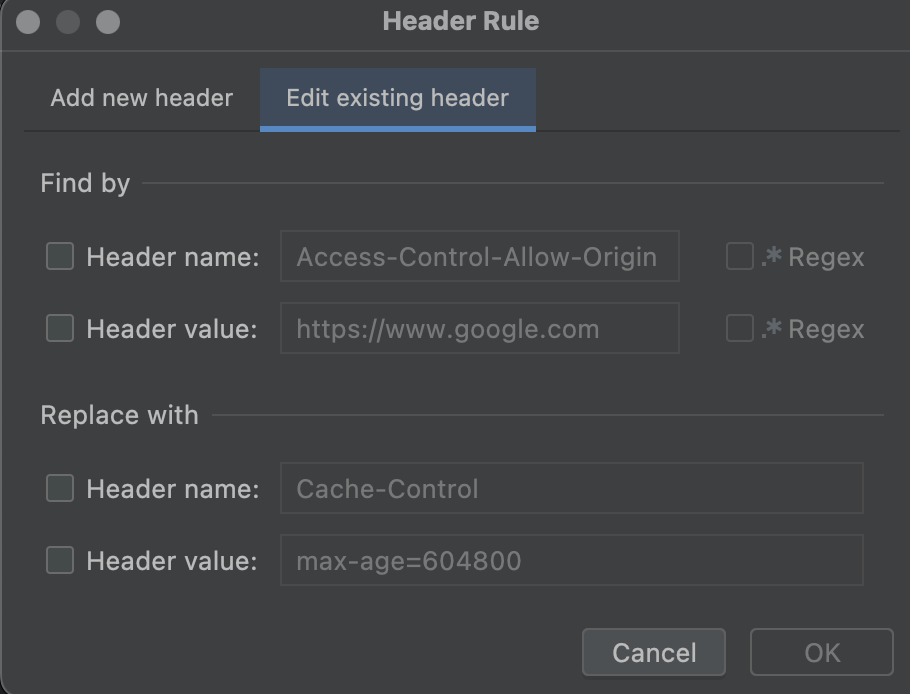 Modify response body
You can also create sub-rules to modify the body of the response. You can choose to either Find and Replace a section of the body, in which the first instance in the body is replaced; or, you can choose to replace the entire content of the body by selecting Replace entire body.
Similar to Header rules, you can create multiple body rules that are applied in the order that they are listed in the table.
Default value for RenderScript flag changed
Starting with AGP 8.0.0-alpha02, the default value for the buildFeatures.renderScript flag has changed from true to false. If you need to enable RenderScript compilation, set the flag explicitly to true. This build feature should be enabled only in the modules that use it.
To get help adjusting your code to support this change, use the AGP Upgrade Assistant.