Android Studio 3.0 has been released to stable. Download it here.
The latest preview version is Android Studio 3.1 and this page provides a summary of all the new features and changes. All these features are available in the latest canary release, and might not be available in the beta release channel yet.
For the latest news on releases, also see the Release Updates.
New DEX compiler
By default, Android Studio 3.1 Canary 1 and higher use a new DEX compiler called D8, which was announced on the Android Developers Blog.
DEX compilation is the process of transforming .class bytecode into .dex bytecode for the Android Runtime (or Dalvik, for older versions of Android). Compared to the current compiler, called DX, D8 compiles faster and outputs smaller DEX files, all while having the same or better app runtime performance.
D8 shouldn't change your day-to-day app development workflow. However, if you experience any issues related to the new compiler, please report a bug. You can temporarily disable D8 and use DX by including the following in your project's gradle.properties file:
android.enableD8=false

If you're using Android Studio 3.1 Canary 7 or higher, you can enable desugaring in-process, which helps decrease compile time for projects using Java 8 language features, by specifying the following in your project's gradle.properties file:
android.enableD8.desugaring=true

Updates to the Android Profilers
Depending on which Preview version you're using, Android Studio 3.1 includes the following updates to the Android Profilers.
Sample native processes with CPU Profiler
The CPU Profiler now includes a default configuration to record sampled traces of your app's native threads. You can use this configuration by deploying your app to a device running Android 8.0 (API level 26) or higher and then selecting Sampled (Native) from the CPU profiler's recording configurations dropdown menu. After that, record and inspect a trace as you normally would.
Remember, you can change default settings, such as the sampling interval, by creating a recording configuration. To switch back to tracing your Java threads, select either a Sampled (Java) or Instrumented (Java) configuration.
Filter CPU trace and memory allocation results
When using Android Studio 3.1 Canary 6 or higher, the CPU Profiler and Memory Profiler include a search feature that allows you to filter results from recording a method trace, memory allocations, or heap dump.
To enter a search query, click the icon at the top-right corner of the pane and then click on the search box. Type in your search query and press Enter.

Keep the following in mind while using this preview feature:
In the CPU profiler Flame Chart tab, call stacks that include methods related to your search query are highlighted and moved to the left side of the chart.
Known Issue: In the Top Down and Bottom Up CPU profiler charts, relevant search results are prioritized above others when a column is sorted in a descending order. However, this prioritization does not take place when columns are sorted in an ascending order.
Request tab in the Network Profiler
The Network Profiler now includes a Request tab that provides details about network requests during the selected timeline.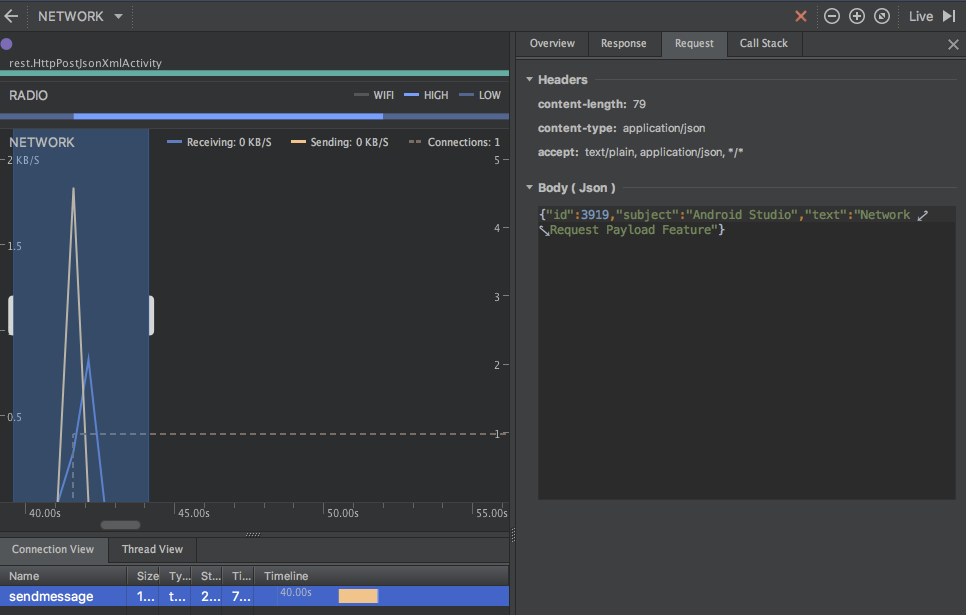 Thread View in the Network Profiler
After selecting a portion of the timeline in the Network Profiler, you can select one of the following tabs to see more detail about the network activity during that timeframe:
Connection View: Provides the same information as previous versions of Android Studio—it lists files that were sent or received during the selected portion of the timeline across all of your app's CPU threads. For each request, you can inspect the size, type, status, and transmission duration.
Thread View: Displays network activity of each of your app's CPU threads. As shown in the figure 3, this view allows you to inspect which of your app's threads are responsible for each network request.
Updates to Lint
When you run lint from the command line, lint now also analyzes your Kotlin classes.
If you're running lint on a project that you created using an older version of Android Studio, you may encounter the following error:
FAILURE: Build failed with an exception.

* What went wrong:
Execution failed for task ':app:lintDebug'.
> Could not resolve all files for configuration ':app:_lintClassPath'.
   > Could not find com.android.tools.lint:lint-gradle:<build_tools_version>.

To resolve this issue, for each project that you would like to run lint on, include Google's Maven repository in the top-level build.gradle file, as shown below:
allprojects {
    repositories {
        // The order in which you list these repositories matter.
        google()
        jcenter()
    }
}