Android Studio provides the fastest tools for building apps on every type of Android device.
Create complex layouts with ConstraintLayout by adding constraints from each view to other views and guidelines. Then preview your layout on any screen size by selecting one of various device configurations or by simply resizing the preview window.
Find opportunities to reduce your Android app size by inspecting the contents of your app APK file, even if it wasn't built with Android Studio. Inspect the manifest file, resources, and DEX files. Compare two APKs to see how your app size changed between app versions.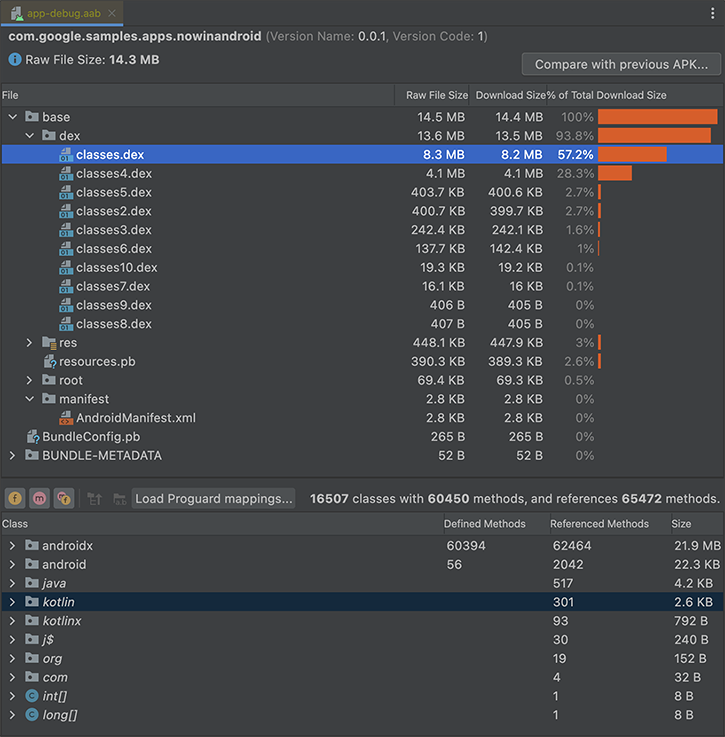 Install and run your apps faster than with a physical device and simulate different configurations and features, including ARCore, Google's platform for building augmented reality experiences.
Write better code, work faster, and be more productive with an intelligent code editor that provides code completion for Kotlin, Java, and C/C++ languages.
Powered by Gradle, Android Studio's build system allows you to customize your build to generate multiple build variants for different devices from a single project.
The built-in profiling tools provide realtime statistics for your app's CPU, memory, and network activity. Identify performance bottlenecks by recording method traces, inspecting the heap and allocations, and see incoming and outgoing network payloads.
Platform
Android Studio package
Size
SHA-256 checksum
Windows
(64-bit)

Recommended
934 MiB
1c145dd9a32521f148b7646fa773e645fde011d19db06d7dda575f391f9d9844

No .exe installer
937 MiB
e2edff4c92b919fe6f2f254c50ede6983cbe4884153d8f72a61f751e00ab613e
Mac
(64-bit)
937 MiB
ff4291d56d94f5b3208f101a2591f15fef33b39e258251450916fdd62db9943e
Linux
(64-bit)
953 MiB
9f3132d181bfe4d46aca667fddf2557f3c428b6c6c726e0ac5be9f5d91fb21c6
Chrome OS
812 MiB
adfdece19d63c537a79bbd40f4dcae72e427d30dcc95b532c21ae4c423633e42
See the Android Studio release notes. More downloads are available in the download archives.
Offline components
Download the latest versions of the Google Maven dependencies.
| Channel | Component | Size | SHA-256 checksum |
| --- | --- | --- | --- |
| Stable | | 2724 MB | f632eed0d7c2e540665242d7e44156efff1e10ddf878cffa4de312958f2c0e2f |
Command line tools only
If you do not need Android Studio, you can download the basic Android command line tools below. You can use the included sdkmanager to download other SDK packages.
These tools are included in Android Studio.
| Platform | SDK tools package | Size | SHA-256 checksum |
| --- | --- | --- | --- |
| Windows | | 99 MB | 868dbb51a07b38c778f3500b1b8b1931221b33348c87c1e461eede9d2a88185f |
| Mac | | 99 MB | fda8189832e506a58643c119f02c515a5a85741ae9c040fab41ee6c5ac021311 |
| Linux | | 99 MB | 7a00faadc0864f78edd8f4908a629a46d622375cbe2e5814e82934aebecdb622 |