Android P Beta is now available for early adopters and developers to try the next version of Android.
You can get Android P Beta in any of these ways:
Get Android P Beta on a Pixel 2, Pixel 2 XL, Pixel, or Pixel XL device
Get Android P Beta on selected partner devices
Set up an Android Emulator to run Android P Beta
Get Android P Beta on a Google Pixel device
The easiest way to get Android P Beta on a Google Pixel device is to Enroll the device in our Android Beta program. To enroll, visit g.co/androidbeta. Once enrolled, your device will receive regular over-the-air (OTA) updates to the latest Android P builds through (and including) the final release. Enrolling is a simple and fast process, and it's highly recommended for early adopters and developers. In most cases, you don't need to do a full reset of your data to move to Android P Beta, but it's recommended that you back up data before enrolling your device.
Alternatively, you can manually download and flash your Pixel device to the latest Android P build. This approach can be useful when you need more control over testing, such as for automated testing or regression testing. System image downloads and instructions for flashing are available on the downloads page.
Android Beta OTAs and downloads are available for Pixel 2, Pixel 2 XL, Pixel, and Pixel XL.
Get Android P Beta on a partner device
Thanks to Project Treble, several of our device-maker partners are now offering Android P Beta for you to try on some of their top devices. Partners include Essential, Nokia, Oppo, Sony, Vivo, and Xiaomi, with more on the way. See the Android P Beta devices for a full list of supported devices.
You can learn how to install Android P Beta by visiting each partner's site. Each partner provides a system image that you can download and flash manually, as well as over-the-air delivery where supported by each partner. Each partner provides support resources to guide you through the installation process — just use the GET THE BETA link to jump to the partner's download/OTA information.
Each partner provides their own channel for reporting issues on their Android P Beta device. We highly recommend using each partner's feedback channel to report bugs and feedback that are specific to the device. On the Android P Beta Devices page, you can use the REPORT ISSUES link to jump to the partner's feedback channel.
Set up Android Emulator to run Android P Beta
If you don't have access to a Pixel or partner device that can run Android P, we recommend setting up an Android Emulator for development and testing. Configuring the Android Emulator to run Android P Beta is a great solution for exploring new features and APIs and testing with Android P behavior changes. Setting up the emulator is fast and convenient and allows you to emulate various screen sites and device characteristics such as display cutouts.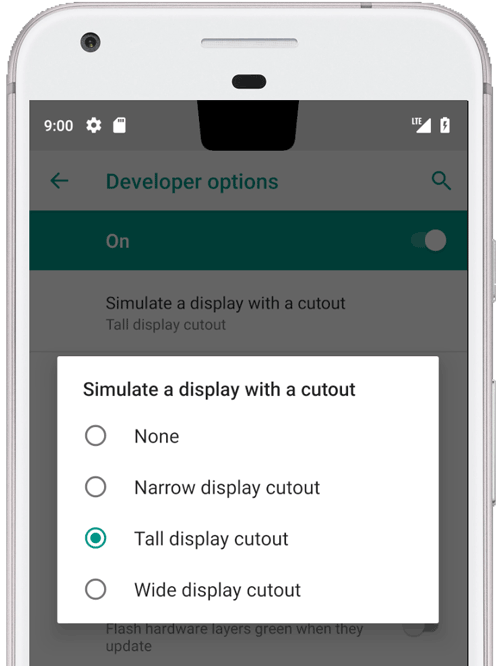 To set up an emulator with Android P Beta, install the latest system image and create a new virtual device as follows:
In Android Studio 3.2, click Tools > SDK Manager.
In the SDK Platforms tab, select Show Package Details at the bottom of the window.
Below Android P Preview, select a system image such as Google APIs Intel x86 Atom System Image.
In the SDK Tools tab, select the latest version of Android Emulator (27.1.12 or higher).
Click OK to begin install.
After install is finished, select Tools > AVD Manager and follow the instructions to create a new AVD.

Be sure to select a device definition that does not include Play Store, and select P for the system image.

When you return to the AVD Manager's list of virtual devices, double-click your new virtual device to launch it.
Be sure to try your app with screen cutouts that make space for the ear speaker and/or camera, as shown in figure 1. You can simulate a screen cutout as follows:
Enable developer options.
In the Developer options screen, scroll down to the Drawing section and select Simulate a display with a cutout.
Select the size and shape of the cutout.
If you'd like to optimize your UI based on the size and position of the cutout, new APIs are available in P to help you add support for display cutouts.